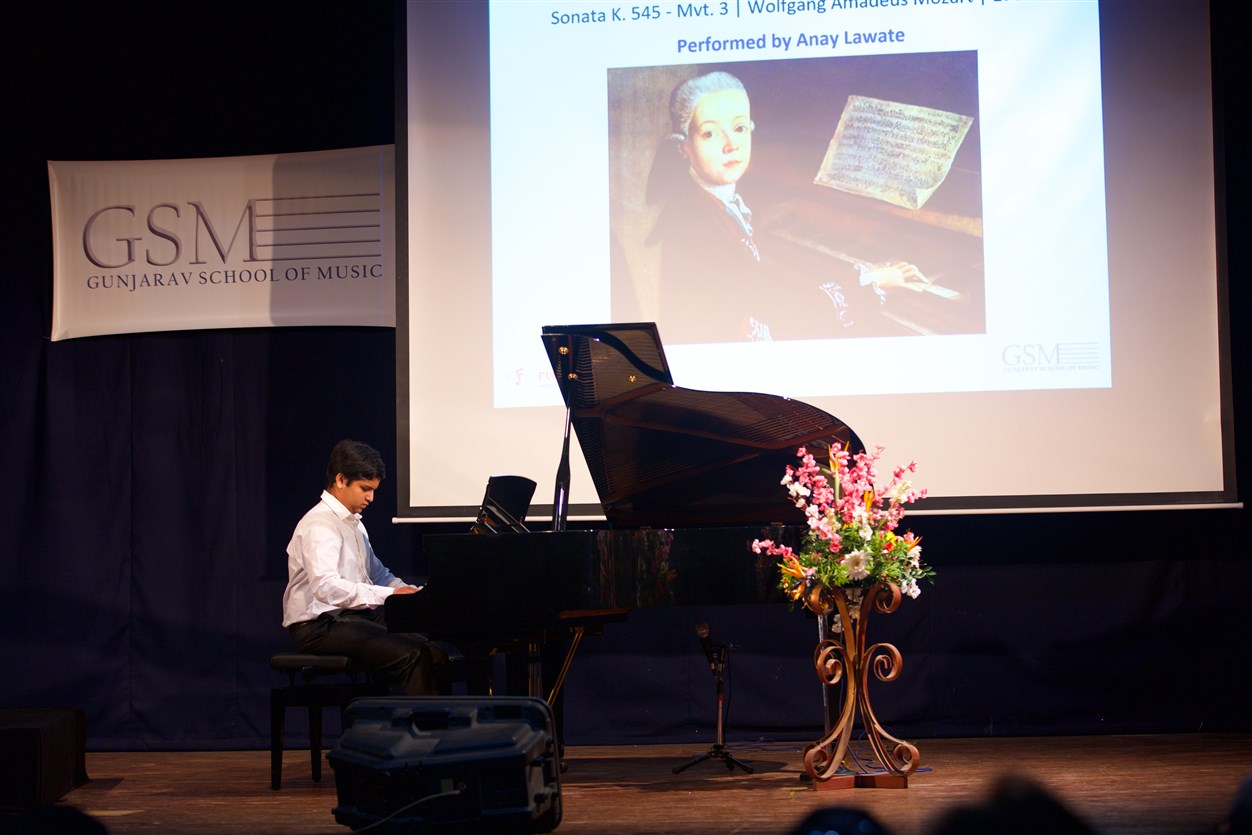 Founded in 2008 by Nakul Jogdeo, Gunjarav School of Music has grown to be one of the leading music schools in India that offer piano and western music lessons. It has been an incredible musical journey so far and we hope that it will continue to flourish in the future.
The word 'Gunjarav', originated from Sanskrit, has been metaphorically used in Indian literature for love songs hummed by a 'Bhramar' (Black Bumble Bee) while collecting nectar from flowers. It is a unique name that describes music making as a most natural, simple and yet beautiful activity.
Back in 1975, Nakul Jogdeo's maternal grandparents (Muralidhar and Jyotsna Gosavi) constructed a bungalow. Nakul's grandmother named it as 'Gunjarav'. Little did she know at the time, that the name will bear such a significance in the future. Nakul was 3, when his parents moved to this place and ever since 'Gunjarav' bungalow has been buzzing with music all the time.
During the years of his college, around 2005, Nakul had already started teaching a few students. In 2008, he founded 'Gunjarav Studio', a proprietary firm, working in music, graphics and multimedia. Nakul also worked as a music director for several projects including a Marathi feature film and produced 30 independent songs under Gunjarav Studio. Eventually, 'Gunjarav School of Music' was independently registered to focus on music education.
In 2020 teacher Hrishikesh Joshi started a branch of GSM at Hadapsar.
Till date, GSM has given music lessons to more than 400 students from age 4 to 70. Currently over a hundred and fifty students take music lessons at GSM with teachers Nakul Jogdeo, Shweta Sathaye, Hrishikesh Joshi, Saniya Mohile and Vishwesh Majali. GSM also offers remote lessons to students in other Indian cities and abroad.
Since 2011, GSM has sent over 200 successful entries for Trinity College London music exams, including 182 distinctions. Several students have received prizes in national level competitions.
GSM has come a long way in a 14 years and we look forward to a brighter future!
(July 2022)